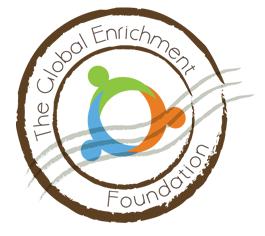 Operation Basketball Somalia
Stony Plain Basketball is honored to help local high school teachers Amanda Small and Haley Larson with a project they is taking on for a high school basketball team in Somalia. Amanda Small and Haley Larson are helping a former journalist turned humanitarian, Amanda Lindhout, who was kidnapped for 15 months in Somali to now empower women in Somalia through education and sport. Amanda Lindhout is founder of The Global Enrichment Foundation.
Cost Per Basketball Player:
Jersey - $30.00
Running Shoes - $50.00
Socks - $4.00
Water Bottle - $5.00
Track Suit - $70.00
Total: Approximately $160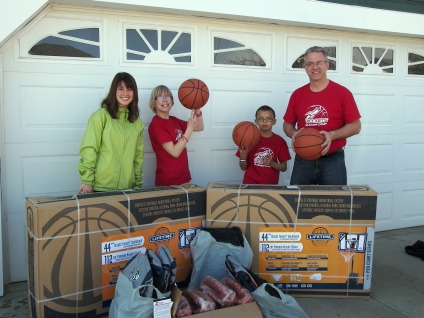 The Stony Plain Basketball RIM ROCKER tournament helped to provide two portable hoops, 15 basketball and ten gym bags in support of the project. Roc Weigl, Talia Angell and Arnold Verge made the presentation to teacher Amanda Small on Tuesday, April 19.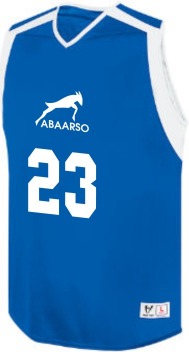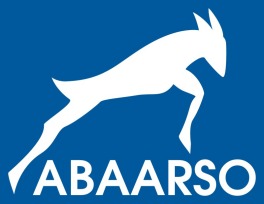 The word in the logo is a Somali word and the English translation is "Kudu", a form of gazelle. The boys logo is a kudu with long horns and the girls use the shorter horn version.
Mission Statement
There are several factors that accompany an individual's participation in sports: teamwork, friendship, communication, leadership, physical fitness, and pure enjoyment. We want to help introduce these concepts into the lives of young women in Somalia. We are currently working with the small basketball team of Abaarso Tech, which is a boarding school for students aged 15-18, located in Hargeisa, Somalia. Because Somalia is one of the poorest countries in the world, the students and their families have very little resources. Nearly all of the students are being sponsored by organizations like the GEF (we will be sponsoring 5 students in the fall of 2011). The team currently lacks uniforms, proper basketballs and shoes. The quality of the equipment (including hoop netting) is extremely poor. Abaarso Tech is a wonderful school that promotes female leadership through education as well as sports. Empowering these nine young girls will open the doors of opportunity for girls just like them.
How we got involved:
Amanda Small Testimonial: I first heard Amanda Lindhout speak at the February 11t, 2011Teachers Convention in Edmonton. I had no intentions of attending this session, I was actually going to a smart board session at the same time she was running hers. I truly believe that everything happens for a reason, and I was convinced that day to attend her session and I am very thankful I did. This miraculous woman is truly doing something amazing from her heart. Amanda was kidnapped in Somalia on August 23, 2008 and held captive for 15 and half months. She was held in unimaginable and cruel circumstances. When Amanda was released in November of 2009 she decided to turn her life experience into a positive form. She continually chooses to practice forgiveness and compassion for what people in Somalia are going through. Within 4 months of returning home, Amanda has set up The Global Enrichment Foundation for Women in Somalia. This program provides opportunities for women to empower themselves by receiving scholarship money to attend post-secondary school. When I heard Amanda speaking from the heart she touched my life in so many ways. She truly is an angel sent from above sent down here to make a difference. Amanda is currently working with the high School in Hargeisa that has started a basketball program that is empowering women in sport and education. These women have an opportunity to play and then advance on to post secondary school. I truly believe that sport is crucial in living an active-healthy lifestyle. It allows a group of girls to bring comradery to their school by simply becoming a team. Playing a sport can give children or young adolescents an opportunity to build life skills that are needed to survive in society. I feel deep in my heart that it is crucial to empower women through sport and education. We all can make kids dreams come true by just simply sponsoring or donating materials to these wonderful girls who truly deserve an opportunity to be successful in life. I am simply a teacher whose heart is with Amanda and the woman of Somalia, I just want to try and make a difference in the lives of girls who need a voice and someone to care for them.
Haley Larsen Testimonial: After hearing Amanda Lindhout's story of courage and heroism I felt I had to take action to empower the young women of Somalia. We, in North America, take so much for granted including our educational and extra-curricular opportunities. The women of Somalia have very few opportunities to rise above their poverty and subordination. Providing women with opportunities to participate in education, sport, and community empowers these young girls and pushes them to recognize the potential within each one of them. I feel a deep sense of gratitude for the life that I have been blessed with, and because of this I also feel a deep sense of responsibility to help those who are not as fortunate as myself. Working to help the women of Somalia has been one of the most enriching experiences of my life, and I can only hope that the women that we are reaching out to are as impacted by our actions, as we are by their courage.
The Global Enrichment Foundation - Education is a tool to create sustainable change in Somalia: a means for women to transform themselves and their communities. The Somali Women's Scholarship Program aims to support and encourage the development of leadership qualities in women by providing them with full University tuition and living expenses, paving the way for a generation of female leaders to hope, dream and change the future of their country-and to take their rightful role in it.
If you would like to receive more information or make a donation please visit the www.globalenrichmentfoundation.com
Stay tuned to this page for updates on this mission. Contact Amanda Small and Haley Larson at somalia@stonyplainbasketball.com for more information.
---