June 4, 2012 (the 5th week)

I've taken a few extra days this week before posting my blog because I've been doing so much this weekend! After getting back from BC Tuesday night, I put all my focus on the 3on3 tournament, getting the schedule put together, making sure there were enough refs, and calling all those from camps and teams who were not yet on 3on3 teams just to make sure they knew what they were missing :). I had most of everything organized, but just had to wait until Thursday night to nail it all down. Until then, we had our last skills camps for the spring, Intro on Wednesday night. We made sure we were ready for the 3on3 tournament and they voted for purple as the color of my beard if they were the winners. Jayden and Zack brought in donations that night which put them in the lead for the time being at $149!! Thanks guys!! The total for all camp is $521.36!!
At the Junior girls camp the next night the girls brought in $60 more for the fundraiser and that put them way in the lead with $206.75!! They voted for Yellow as the color which I did not expect at all. I thought they'd vote pink for sure! Next I went over to the Junior boys camp and they voted pink, haha. That night we played games and made sure we were ready for the 3on3 tournament. It was a good last day of Camps and I'm definitely going to miss the kids! One more night of fun and then the spring is over :(
Now to talk about the event that took up most of my time this past week, THE 3ON3 TOURNEY!! It was a great day and the weather cooperated with us, with it just being a little chilly at some points. I had a handful of volunteers helping me out with everything throughout the day.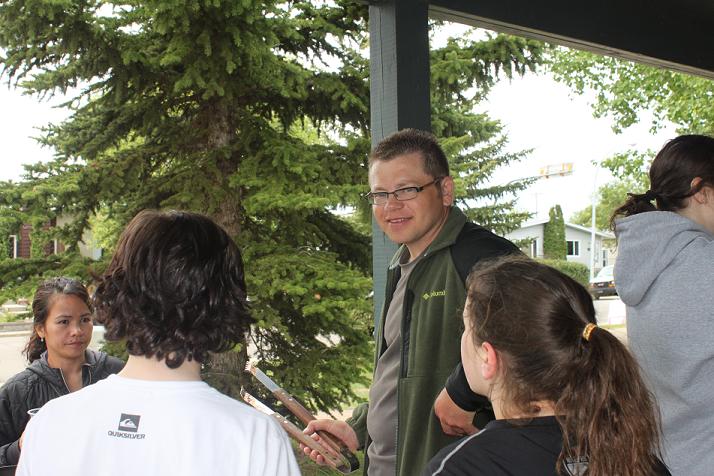 Sheryl Ottenbreit & Amy Bugera Brent Bugera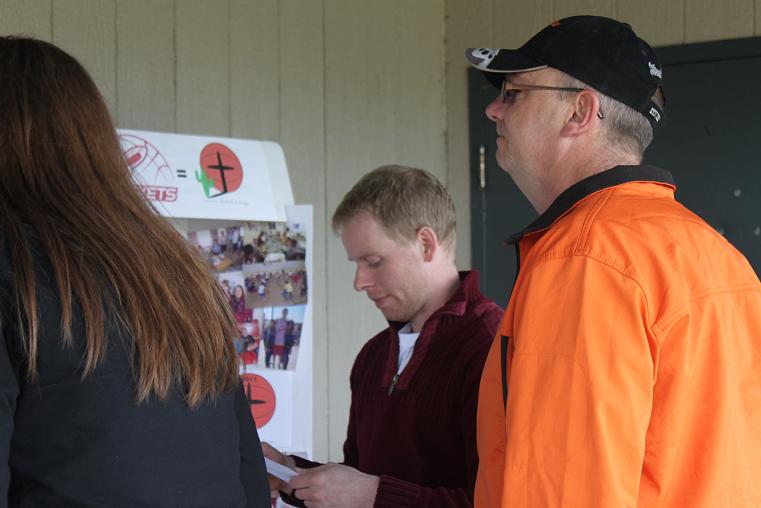 Laura Weigl & Karen Oliver Mark Ottenbreit
These folks helped out with concession, which was a fundraiser for Operation Basketball Amigo and raised about $350!! We also had a nurse there volunteering her time to be there for the kids who got injured, thanks Karen! Mark spent all day collecting score sheets and figuring out the standings for playoffs, thanks for the help my friend!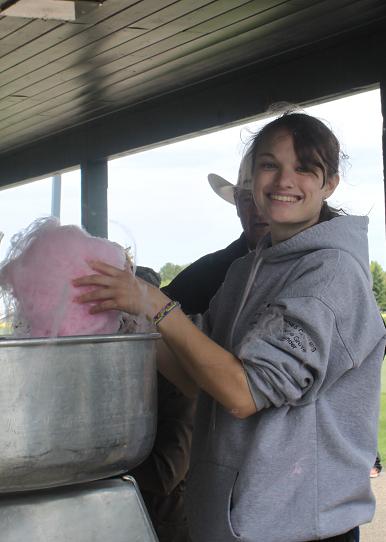 And who didn't love this gal on the day, Julie Roberts making cotton candy! She also helped out by reffing a bit for us :). I will also mention all of the other people who volunteered their time to help make this event possible:
Mahmoud Elkhouly - referee Isaiah Raju - referee
Tyler Drummond - referee Christian Kelly - referee
Matt Boyd - referee Tony Cherfan - referee
Steven Cherfan - referee Nicole Henkelman - referee
Mike Piska - referee Brayden Tegart - referee/coach
Brenda Nelson - camera woman Roc Weigl - coach/set-up
A BIG thanks to all you who volunteered!! You did awesome and helped make the day super!
I was at the Intro court all day, so I wasn't able to watch many other games that went on, but I saw a little bit and after looking at some pictures and final scores can see that everyone was working hard!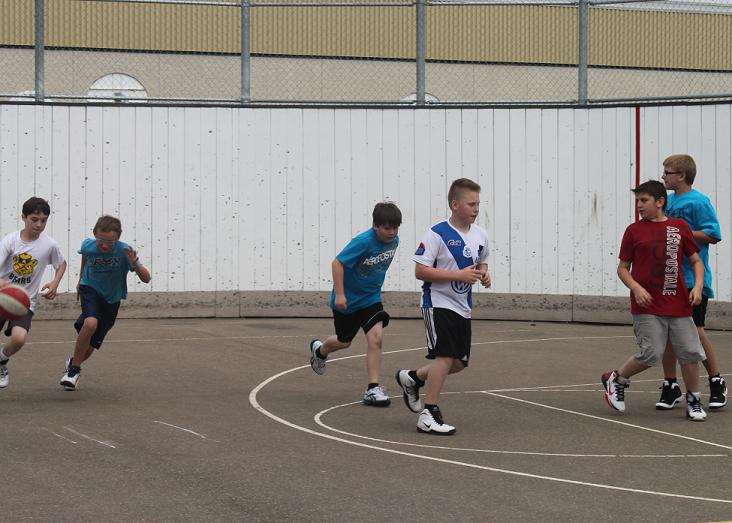 This game in the picture above between the U13 boys teams was decided by only 1 point. That was the difference between Silver and Bronze! Great job playing hard guys!
The U15 girls chose to wear a lot of purple! I hope it wasn't too confusing for the refs! I want to give a "Shout out" to the Purple People Eaters team, Haylee, Taylor, Stacey and Jessica for sticking with it and playing hard. I didn't see the games, but I know that Haylee got injured early and I think they had another injury later on. That makes for a tough day and I felt for them, I can only hope that they still somewhat enjoyed themselves.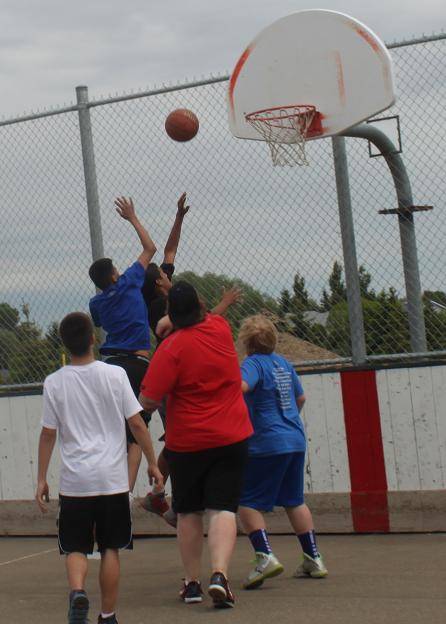 The U15 Boys division seemed to be the most competitive! Every single game was decided by 2 points at the most! I wish I could have seen some of those games! Great work guys!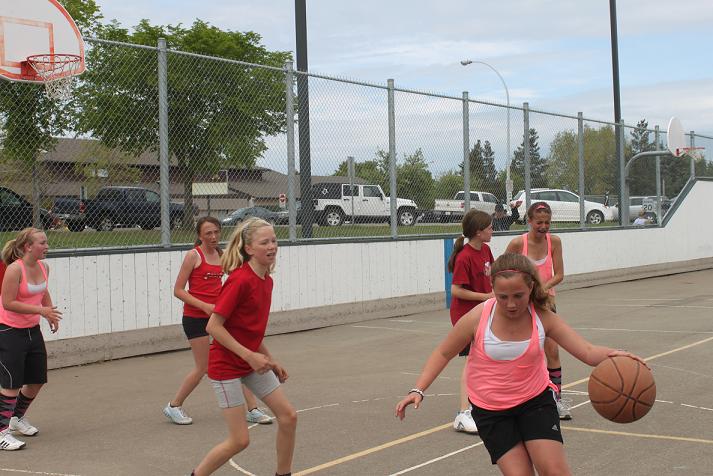 U13 Girls. What can I say, there were 9 teams in the division! There were some close games, but there were also some not so close games. The team Triple B, shown in the picture above with the ball, played so well that they definitely deserved a medal, winning 2 games fairly easily and losing two games by just 1 point! The two teams they lost to won the silver and bronze so Triple B just missed a playoff by a nose! "Shout out" to Emily, Denise and Jessica for playing so hard and well! I will also "shout out" to the Globetrotters (Julia, Rae, Kaitlyn), Tornadoes (Ashley, Eva, Kaela, Kelsie - in the pic above) and Cupcakes (Talia, Ali, Kara) for taking the Gold, Silver and Bronze! They worked hard and there were some very close games! Thanks to all the U13 girls for coming out and playing hard! You girls rock!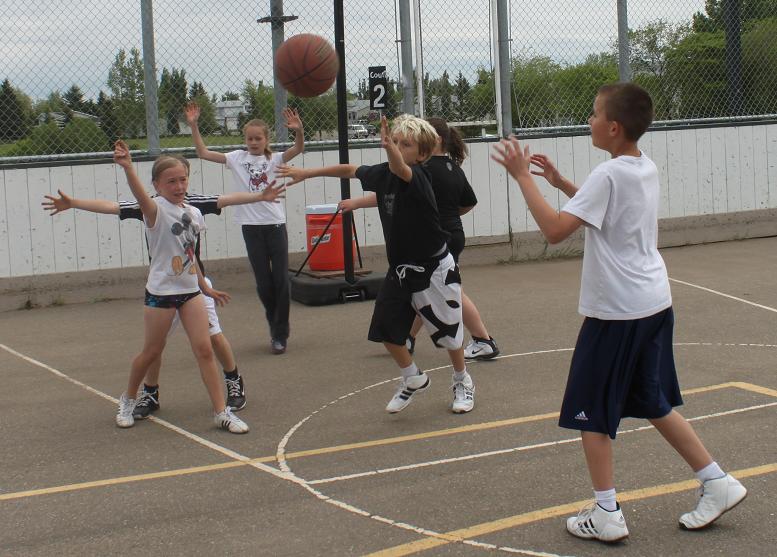 The U11 division did not have enough girls and boys to make their own divisions so they were coed. The A-Team (white above) with Aiden, Cheltey and Sarah played so well all day long, won 2 games and lost 1 in the round robin. The unfortunate part about that was 3 teams were tied at 2-1 after the round robin and the A-Team lost the tie-break so they played in the Bronze medal game. They worked so hard and came up short because of paperwork. To be honest, all the teams in this division deserve great praise for how well they all played! The girls had to play against the boys, which might make some girls scared, but these girls used the skills they learned, played hard and took it to the boys! The boys also played very well, using their teammates and not just trying to do it themselves. You are all awesome!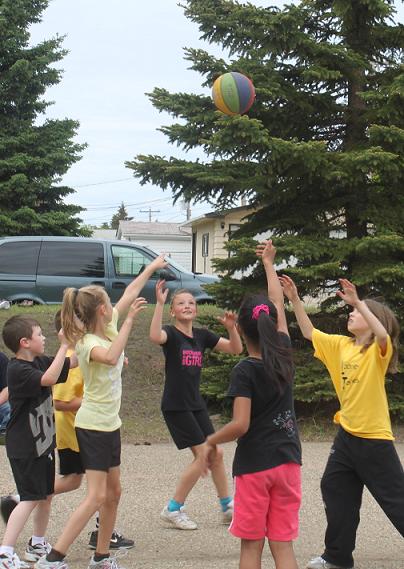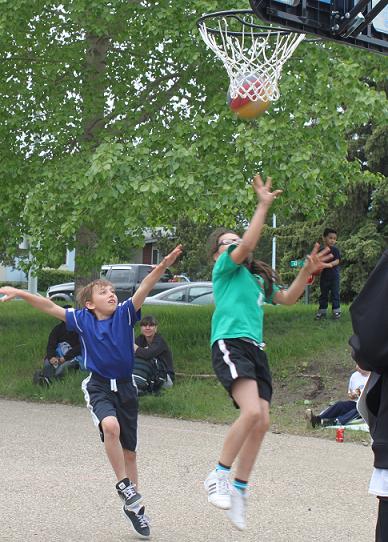 This is where I spent almost all of my time on Saturday, with the Intro camp division! So many awesome and funny things happened on that court that day! Gavin left the court in the middle of play for a washroom break and then comes running back on the court in the middle of play and when Brayden asked him what he was doing he said matter of factly "I'm back." Jadyn hit a basket at the end of a close game to seal the victory for the Avengers! Danielle was shooting the lights out and Renee was playing great defense as well as doing a great job of getting open on offense! Brock was playing stellar, dribbling, shooting and passing to his teammates to try to get them baskets too! Isabel and Kyle played awesome and helped their team win the Gold! Team Fusion (Garrett, Payton, Jayden & Brandle) played awesome team basketball all day long! They cheered and encouraged each other, even hugging after baskets which was a great thing to see! Aiden, Ashley, Damara and Aldrich played great too, making great shots, passes and just barely lost to the Justice League for 3rd place in another close game! Yeddah injured her knee, but after a little rest played through it for the rest of the day and did fantastic! Connor is a great passer, maybe a little too great because he only took a few shots, but he looked for his teammates and made some awesome passes! Brody, Jesse, Amarah, Mackenzie, Brendan and Aabid can't be overlooked. The Avengers played hard, which seems to be a theme, and used the skills they learned to give it their all! The Ninja Turtles came so close to taking the gold, losing by 1 point in the final to the Incredibles, but they played so good all day long!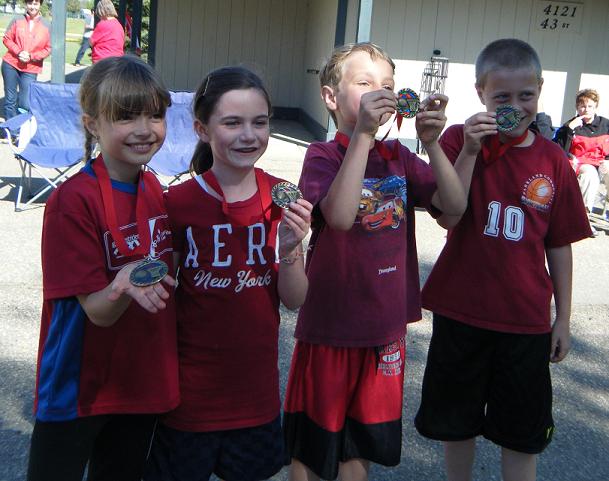 The Gold medalists, Renee, Isabel, Kyle and Brock...The Incredibles! Great job!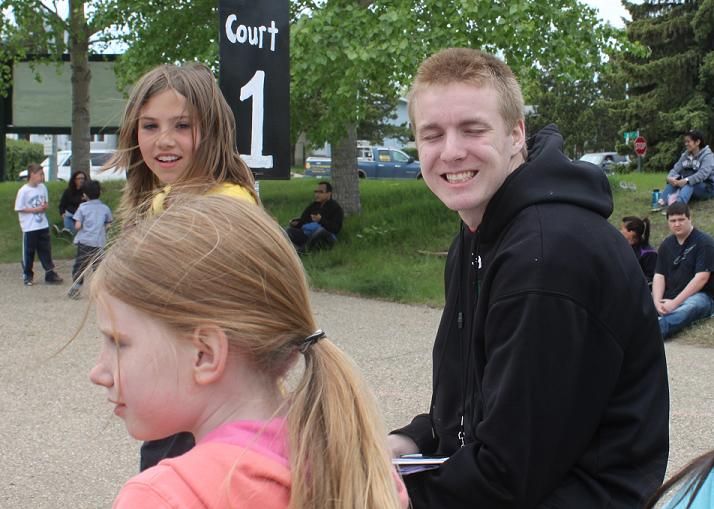 Coach Brayden and I had a great time with the Intro division at the 3on3 tournament! The kids are all so wonderful, full of love for their teammates and opponents! They gave it their all, trying to win but respecting the other team when they lost, recognizing that they worked hard and had fun enjoying the game of basketball together!
I need to say thank you to everyone who came out to the tourney! Whether you played, volunteered, or watched your kids, you all contributed to a great day! We play basketball to enjoy physical activity together, which was one of James Naismith's goals when he created the game. If we can't enjoy it and respect our teammates and opponents, then we're playing the game with the wrong attitude. From what I have heard this year, the attitude of most of the participants was a positive one. I hope that you all will continue to enjoy the game as I have been able to for 18 years :) Longest Basketball Game is drawing closer!
For God's Glory!

May 25, 2012 (the 4th week)

Seriously these weeks keep going by so fast, before you know it we'll be playing the Longest Game! I had a great time this week at the camps! In the Intro camp we focused on 3on3, in preparation for the 3on3 tournament on June 2nd, and the kids did very well! There is still a lot to learn, but they're getting there :)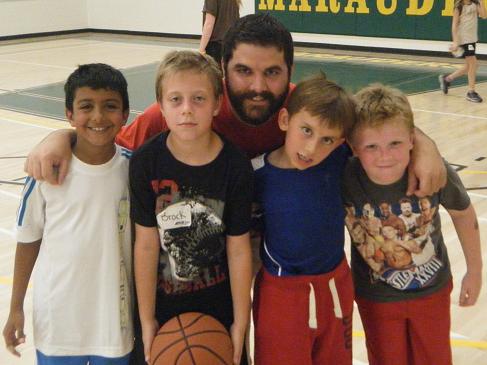 These guys in the picture are the most recent donors to the "Color my Beard" fundraiser. Aabid, Brock, Brody and Garrett all contributed graciously to now put their total up to
$125.
Man I love those kids!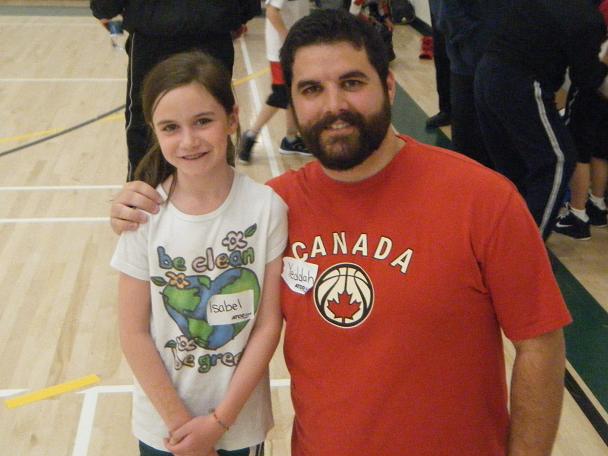 I needed to spotlight Isabel this week because of what her teammates thought of her on the night. She works hard, shows great teamwork and is always a friendly, encouraging person to those around her. At the end of the night we do "Shout outs" which is where we gather in the circle and anyone can raise their hand and point out something awesome that they noticed someone else doing. Well, on this night, Isabel got about 6 "Shout outs" which is incredible because usually people get one or maybe two! Her efforts were noticed and praised by her teammates. She is a wonderful young lady who is a joy to coach, and a great teammate!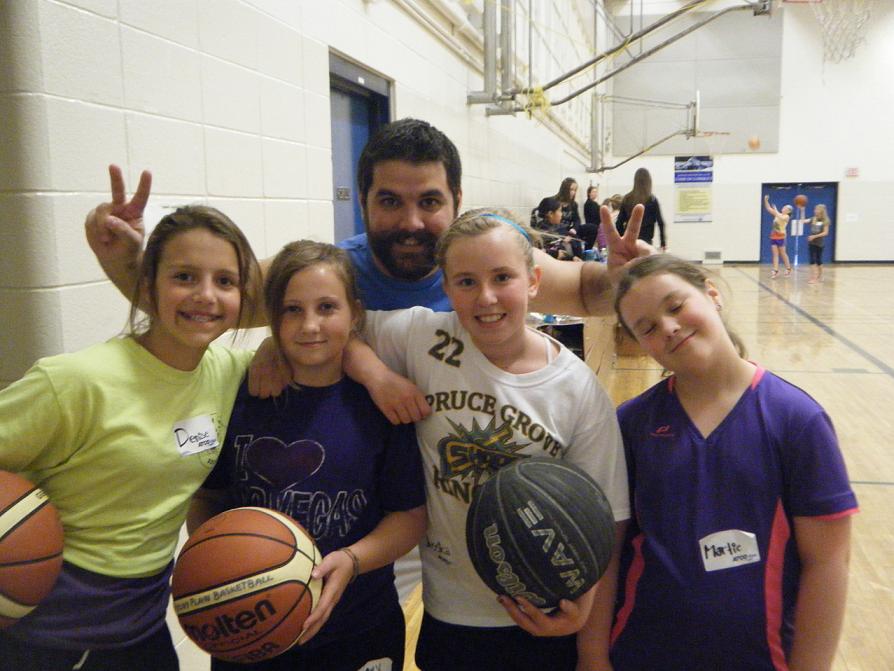 The Junior Girls had a little bit of a different night, coach Roc was gone to BC so coach Steven took over and I'm sure did a great job. I was only there for 45 minutes again, and was focused on talking to everyone about their 3on3 teams, but these four girls (Denise, Emily, Jessica and Martie) all brought in donations to give them a monstrous total of
$147.75!
Thanks so much ladies!! That puts them in the lead by $17 over the Junior boys :).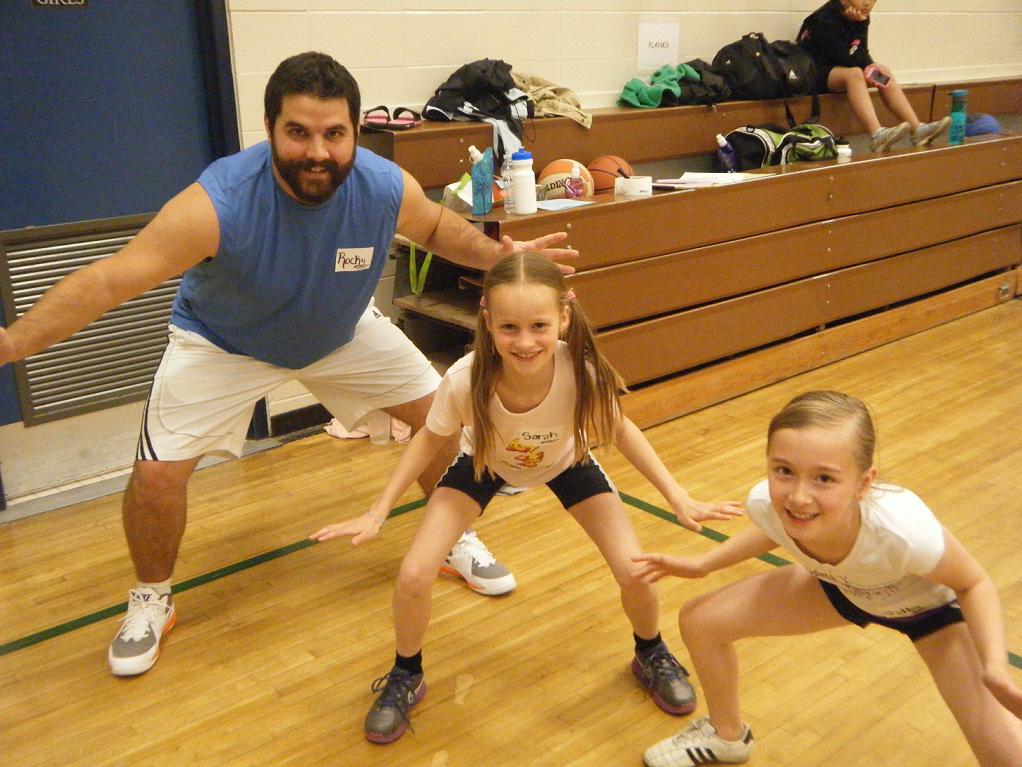 These two young ladies always impress me at skills camp with their defense. Playing 3on2 with a trailer, they are always in their defensive stance, even before the ball is turned over and coming their way! They do it every single time without fail, and without any coach having to tell them. Great job Sarah and Cheltey, love the effort!
The Junior boys camp went very well. We did some more work on boxing out and then played 3on3 with no dribbling again. This week they did a lot better with that, passing well with their teammates and getting open for good shots. Stefan, Logan and Dylan were undefeated on the night because they were passing so well! Great job guys! I think we'll do it one more time next week and see if everyone else can find similar success :). I was very impressed at how hard they all worked that night and look forward to one more week with them!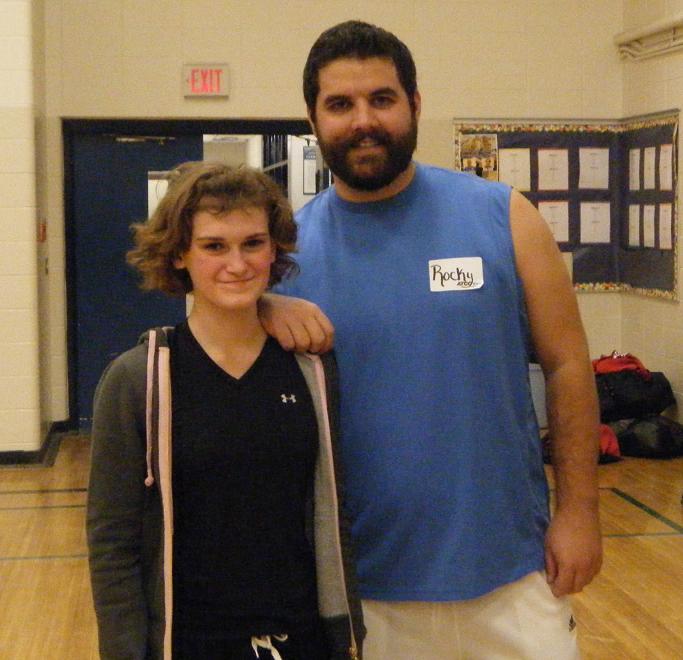 Last but not least, the Seniors. This week Haylee brought in a donation which put the total of all camps to
$428.36!
BIG Thanks!! Hayley also comes early to the Junior girls camp and helps the coaches out there, and I know the coaches appreciate the help :).
The 3on3 tournament is next weekend already!! The Intro division teams are set and so is the schedule, but the rest of the divisions will have to wait until next wednesday or thursday for the completed schedule, as I have to get in touch with all members of Stony Plain Basketball Spring League to see if they were planning on playing and so on. It's going to be a great day of basketball and I'm so looking forward to it, but my next week will be filled with organizing it and finding volunteers to referee. For now, I'm off to BC for my dad's graduation. See you next week.
For God's Glory

May 18, 2012 (the 3rd week)

Wow, another week has gone by so fast! The U13 boys Rim Rocker tournament happened last weekend, where the Edmonton Grads Centurians took first place! The games were a lot of fun, with each team putting in great efforts, but not getting down on themselves when they were down in the game. Our Rockets took 4th place, and did so with only 7 players in the last game where it seemed like there was an injury every few minutes. But they picked themselves back up and continued playing ball and battling with the other team from Lloyd. The Rockets showed great teamwork as they encouraged one another and helped each other out when they were injured. One example of this was when Logan went down with a shoulder injury on Saturday morning. He had already injured his shoulder the day before, and his teammates new he was playing through the pain, so when he went down clutching his shoulder, Jordan (teammate) rushed on the floor with an ice-pack to come to his aid. Great stuff Jordan! That is just one instance, but I know that their team treats each other like a family, like many sports teams out there. I also enjoyed watching Arnold hustle! When an opponent hit the floor, Mitch Kuny(Rockets coach) says, "Help him up guys!" and from the other side of the floor Arnold hustles over there, hand outstretched to his opponent. He was already up by the time he got there, but it was great nonetheless. Keep working hard Arnold, great job!! I should also mention that Julie Roberts and Megan Myshak helped out with the scorekeeping for the tournament and I really appreciate their time! I think I owe them a meal of some kind for the help :), thanks so much girls!
Monday night I visited the Advanced camp at Memorial, where Stephen Kent and Ryan Cherfan were there to coach. I didn't stay long, but talked to them all about the 3on3 tourney and Longest Game. Unfortunately they are not into the "Color my beard" fundraiser like the younger kids are, so we'll see if they are able to help out in the next couple weeks.
At Intro Camp on Wednesday we had a great time! We worked on boxing out and made 3on3 teams so that they could start practicing together. They all worked very hard and did a great job!! I forgot to take a picture with those who donated to the fundraiser, but they brought another $75!! Between Garrett, Brody, Brock, Payton and I can't remember who else but I'll get a picture with you guys next week :).
At camp on Thursday night Mackenzie brought a donation but for some reason the picture didn't turn up on my camera!? Thanks Mackenzie, you are awesome!! Coaches Steven and Roc stayed at Broxton with the girls while I went over to the boys again at Greystone. There were only 17 of them, but we had a pretty good time I think. We worked on boxing out for a while and played 3on3 without dribbling, because when they're allowed to dribble, they turn into black holes and don't use their teammates. So hopefully by the time the 3on3 tournament rolls around, we'll be seeing some good teamwork. I shouldn't say that all of them turn into black holes, because I saw some really good teamwork out there from some of the teams. These guys in the picture below, Garrett, Kai, Ben, Sean and Tanner all donated money to make the Junior boys total $110.61, which is $0.61 more than the Intro camp! Thanks guys!!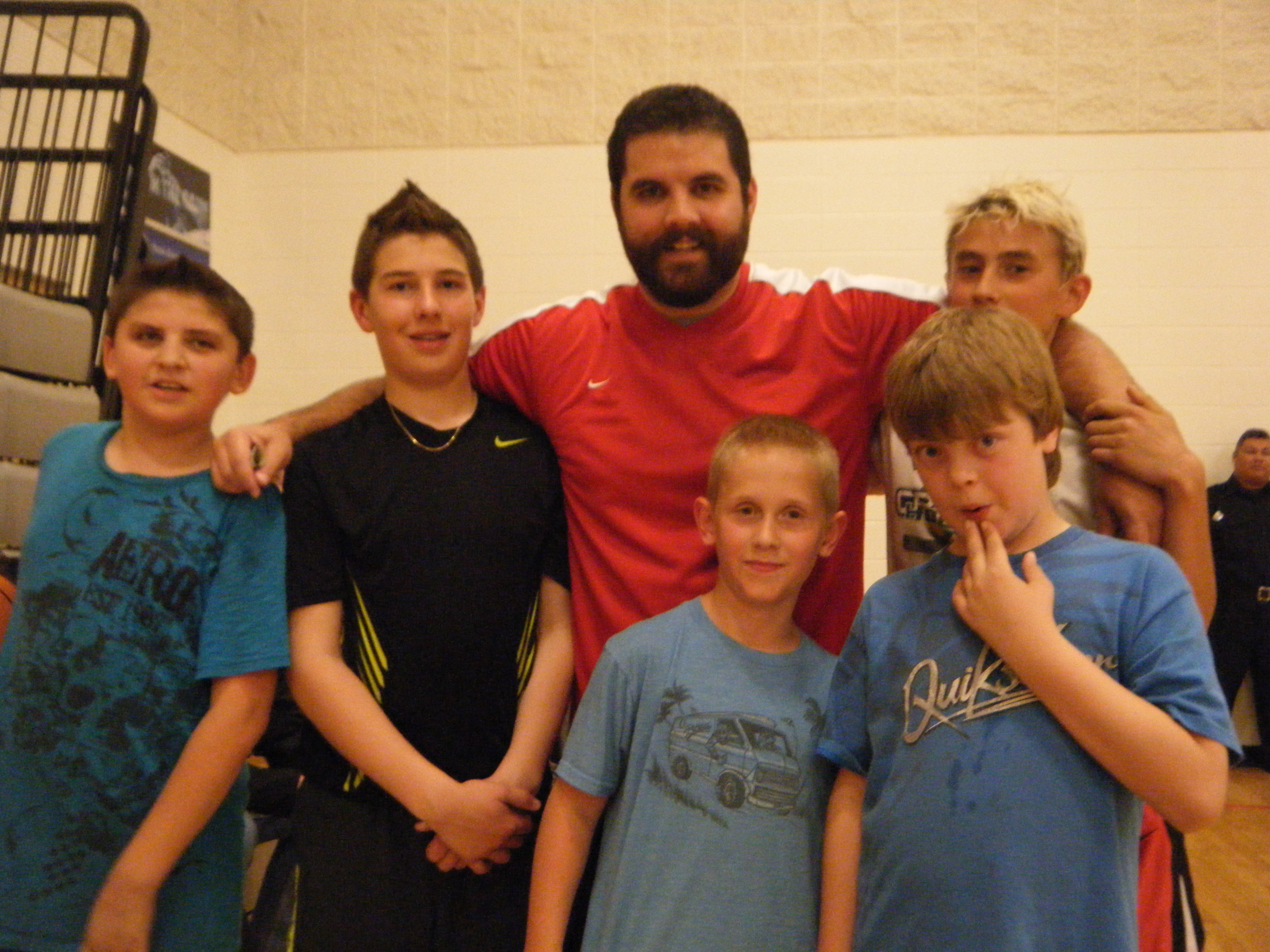 I will also point out Sean, far right blue shirt, who I had a shout out for that night. While doing left-handed lay-up elimination(a race), they are supposed to use their left hand for the lay-up. If they shoot with their right and make it they are supposed to shoot again. I was under the one basket making sure they weren't cheating and Sean was shooting on the opposite basket on the far side. His first shot went in, but he knew that he used his right hand so he kept going trying to make it with his left, all the while his teammates are yelling at him to just come sit down because he won! He showed his honesty, even though he didn't know I was watching, and did not cheat just to win the race. So shout out to Sean! Way to be bud!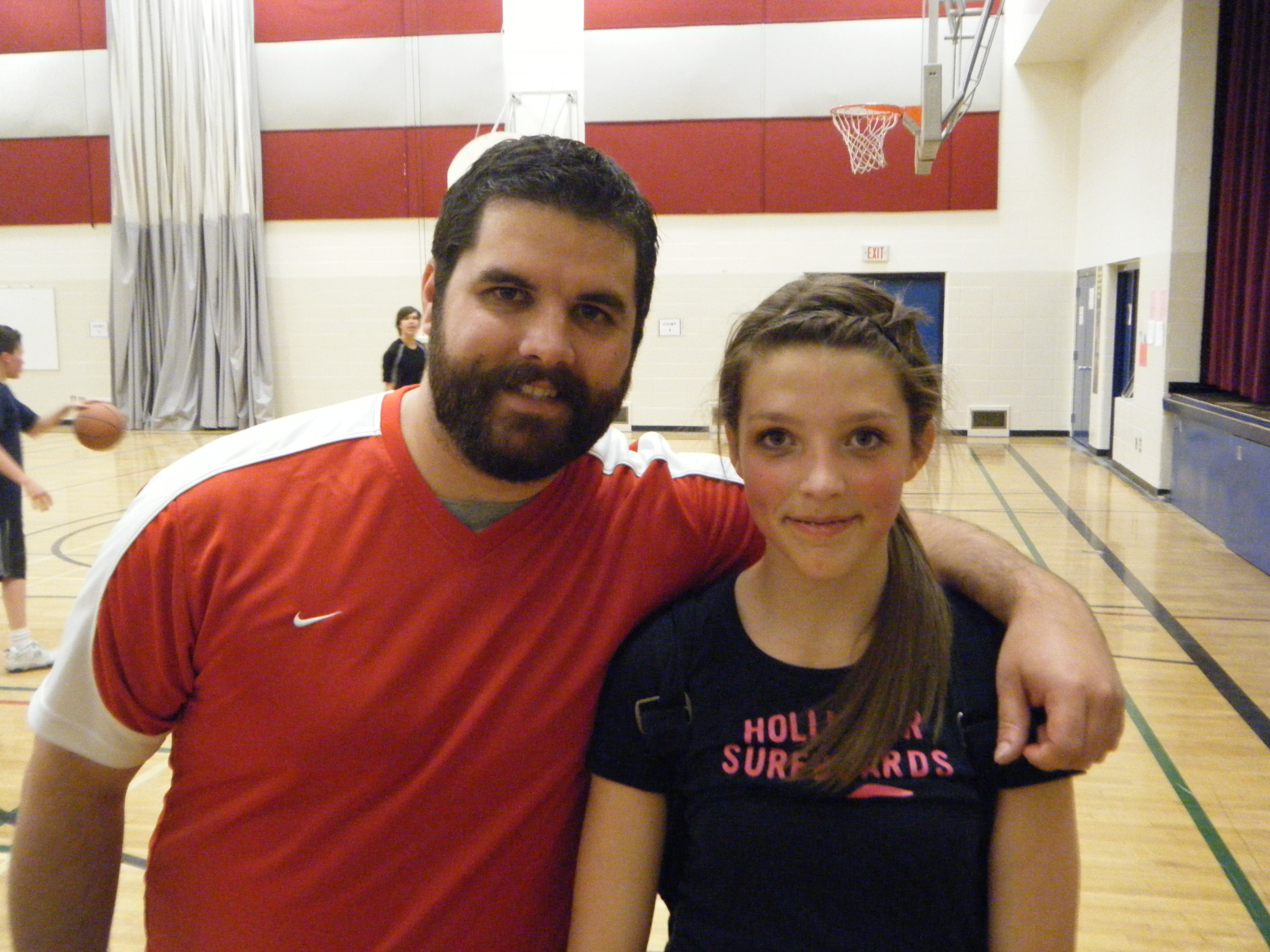 Back at Broxton, where the Senior camp was finishing up when I came in, the guys and gals were working each other hard. Joelle (in the picture) was the first to bring a donation for the Seniors which brought the total amount raised by the entire Spring camps to $287.36! Thanks for the support Joelle!
Planning for all events is coming along, with 3on3 starting to take over my time, June 2nd is going to be a great day! I haven't had much time to work out this week since I've been helping some friends reno their place, but will get back to it asap as I need to be ready for the Longest Game. Keep your eyes and ears open as things are starting to get rolling! Yet a lot more bball to be played this summer!
For God's Glory

May 11, 2012 (the 2nd week)


Another week has gone by and basketball has taken over my life. Between planning for this weekends U13 tournament, summer camp, the longest game, the 3on3 tournament, coaching skills camp, church and youth group, I don't have much time left over to tend to my beard :P. The "Color my Beard" fundraiser to get the word out about the Longest Game has started well with $35 being donated from Yeddah, Ashley and Aiden in the Intro Camp!! Thank you 3 soooo much for the support, I greatly appreciate it and it's going to a great cause :)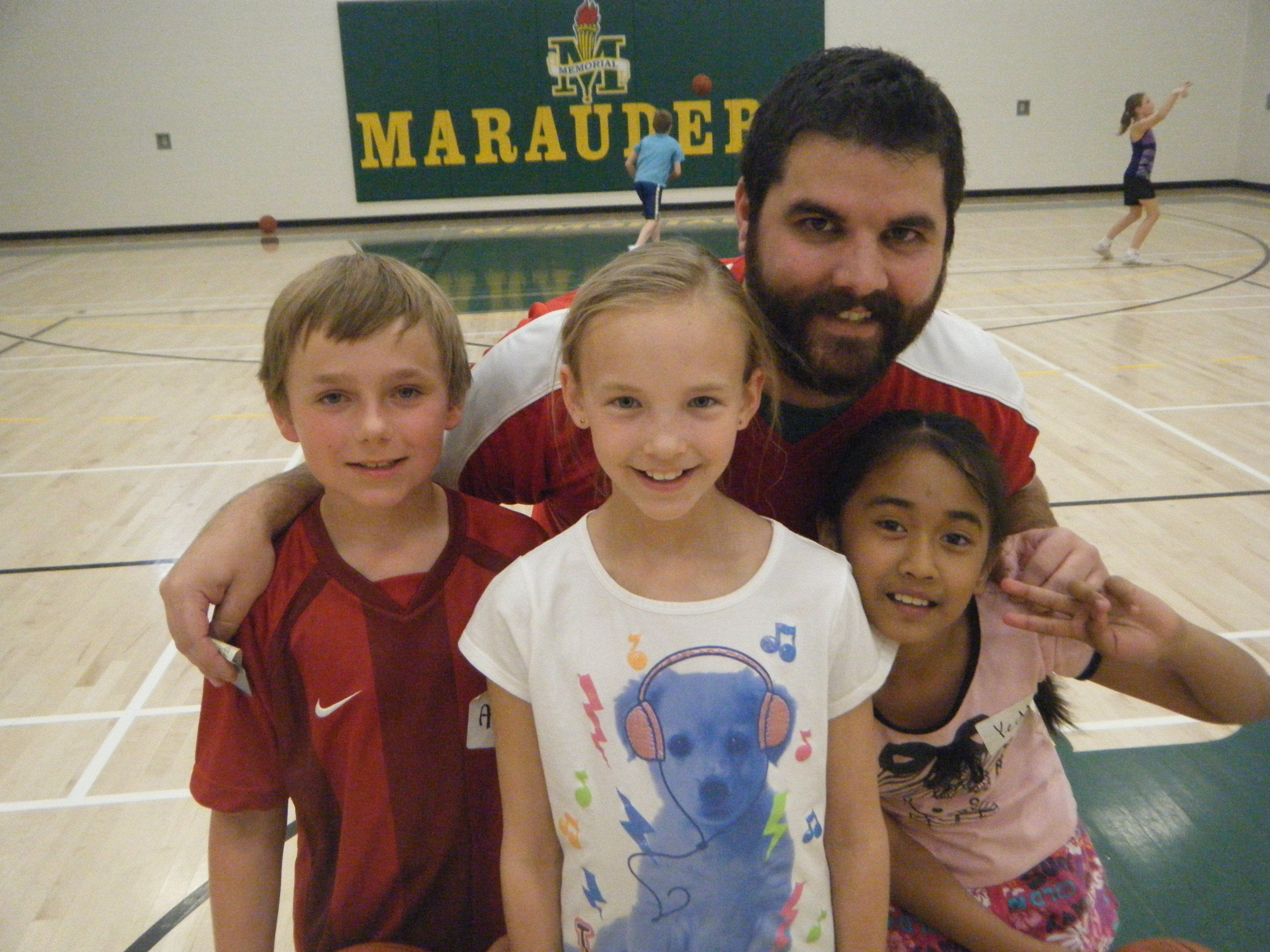 There's Aiden, Ashley and Yeddah with me at the end of Intro Camp Wednesday night. We had a great time that night, learning about defense and about reading the defense along with playing a some fun games. They definately were not the funnest drills, as Coach Laurah Wild can attest, but they worked for the night. It is always such a fun night with these kids, they are catching on so fast. My main man Garrett McCrimmon is always working hard, and Brock and Zack are shooting machines! Danielle lights it up too, and Isabel just always seems to be smiling :) I'm very thankful for the opportunity that I have to coach these kids.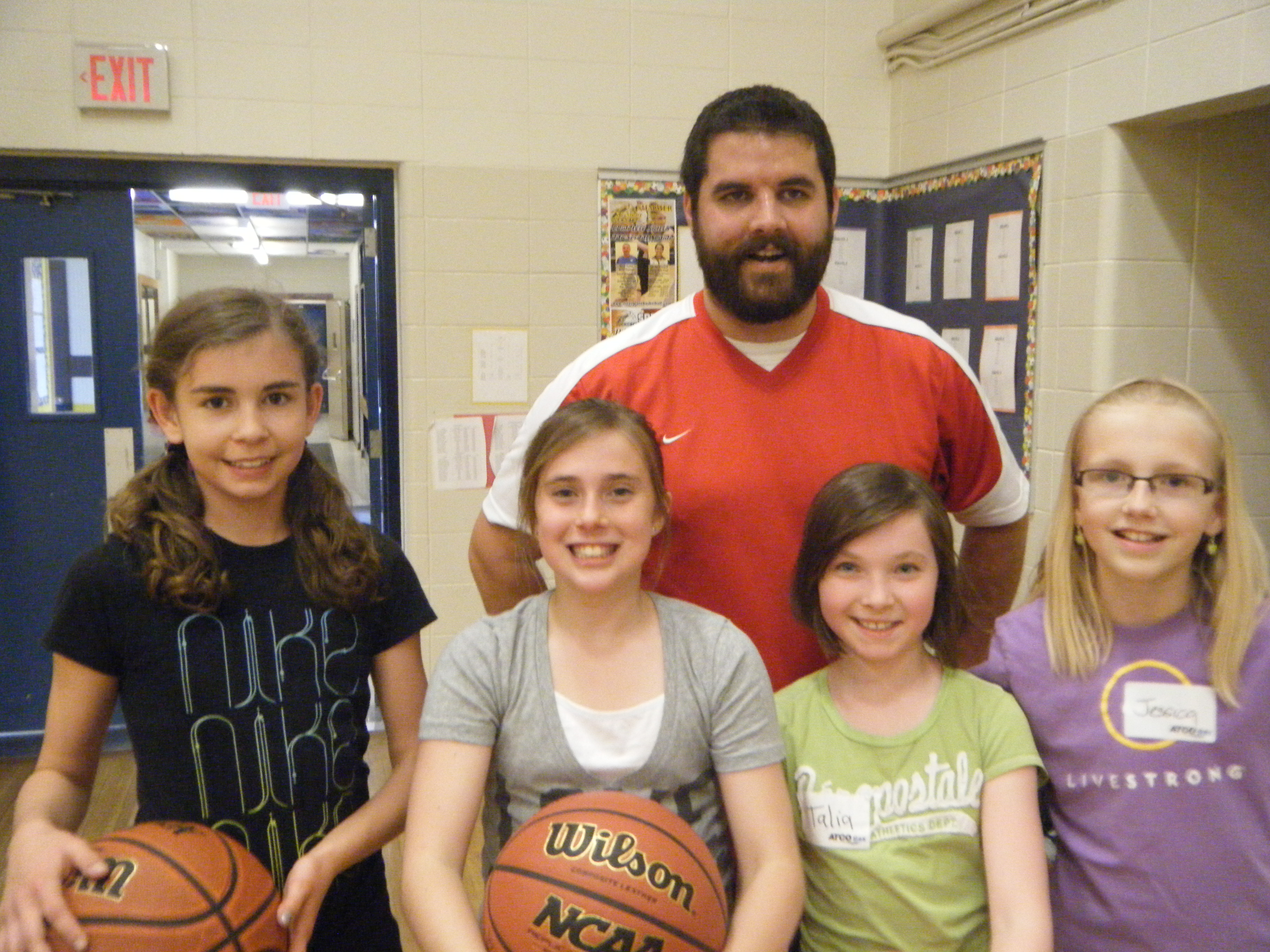 Thursday night I start off with the Junior girls at Broxton Park school where Kiana, Jensen, Talia, and Jessica all graciously brought donations totaling $56.75! That means the girls are in the lead for who gets to choose the color of my beard! Thanks so much for the support ladies!! YOU ROCK!! I only spent 45 minutes with them, but had some fun playing 3 on 2 with a trailer and British Bulldog in which Jazz got me out :P Good job Jazz!
I then hurried over to Greystone where the Junior Boys skills camp takes place, and with Coach Mitch Kuny and Brayden Tegart this week, we spent some time working on defense, reading the defense, and 3on3. With me in the above picture is Liam, who donated $10 to the fundraiser, and on my way out at the end Ben also donated $10! Thanks guys!! I really appreciate it! The guys did very well and once again we had a great time playing basketball together!
As I said earlier, planning for all of the upcoming events is getting under way pretty fast, with the U13 boys tournament this weekend at Memorial, the 3on3 tournament in just 3 weeks time followed by the Basketball Jamboree the Wednesday after, for which I've got 11 pairs of shoes as prizes with more prizes to come! Summer Camp is slowly starting to fill up, with 41 registrants thus far, and I created 5 different possible logos for the camp T-shirt which I posted on facebook for people to vote on :) So if you haven't yet, please vote! It's been yet another awesome week of bball!
As far as training for the Longest Game, it has begun :) My head seems to be doing fine after I go out for runs around Stony Plain, so things are looking up! I'm down 5 pounds after this week and hope to keep making progress in my effort to get ready for the Longest Game! Thanks for all the support thus far, from those who are joining me in playing the Longest Game, those who want to volunteer, those who have donated already and for those who are praying that God's will be done with this effort. It's for God's Glory!
May 4, 2012 (the 1st week)
Three and a half months from now I will be participating in the Guiness World Record longest basketball game with 23 other participants. Needless to say I'm in no way prepared to play basketball for 114 straight hours... yet. I am extremely excited for this opportunity to raise money for mi amigos in Mexico and to bring in to a little bit more light what Operation Amigo is all about. As time rolls on this summer I'll let you all know more and more details about what will be happening and who will be playing with me. But for now, let me take you through my basketball journey each week, as I will be coaching skills camps, running a 3on3 tournament, making videos and memories and just generally using basketball as a means to build community and friendships in Stony Plain and area.
I should begin with the renewing of my love for basketball. Spring and summer 2011 were absolutely fantastic! Coaching the camps were so much fun and the kids were just great. I think the fact that all these kids from this area are incredible just makes the experience for the coaches so much greater. But I had to go back to school come September, which was bittersweet. I would miss fall skills camp but on the plus side I would get to play at the College level again with Ambrose. Unfortunately, mid-October I was hit by a teammate in a scrimmage and suffered a concussion, which eventually ended my season. I tried to come back too early and made it worse, so at the last possible moment I decided I needed to quit the team and just recover (there was only 2 months left of the season and I still wasn't able to practice). It was depressing, having to sit around and not be able to do any physical activity for months until I stopped having post-concussion symptoms. The awesome thing was, I was in a class where I got to read books and study about basketball. From James Naismith and basketball's origins to Michael Jordan (my childhood hero), Magic Johnson, Larry Bird and basketball in the 80s. Watching those players reminded me of my childhood, and what basketball meant to me then. Strip away the emphasis of winning and money making that come with higher levels of play, and you get playing for the love of the game. When I started playing at 11 years old on the single outdoor hoop at my nana's, I could play for hours, didn't matter if I was by myself or with friends, it was FUN! That is what has reminded me of why I love basketball, and why I want to share the game with kids, to enjoy physical activity through basketball.
Just before Christmas, while thinking about the possible fundraisers for the upcoming summer, I thought about the Longest Hockey Game and the Good that bunch was doing, and thought "The Longest Basketball Game?...why not?" I put the request in to Guiness World Records, they gave the go ahead and the journey began. Personally, after a few months of no physical activity, I was a little bit worried that I wouldn't be able to recover in time to play in the game. It's been 6 months now since my concussion and I'm feeling pretty good but I have yet to get back to doing physical activity. Not only have I been just sitting around, but I've gained about 30 pounds in that time, so now it's time to get disciplined and get my body back in game shape! I've got 3 and a half months to do it, and with your help and encouragement, I will get there!
On a Spring Camp note, this was my first week back coaching and I had so much fun with all the kids! I have yet to learn all your names, but I've already been noticing some great things happening between teammates! You were all working hard to improve your skills, practicing new things and encouraging others! I was very impressed this week and look forward to the next month of camp/3on3/Jamboree with you all! I will be singling out certain kids and instances in the weeks to come, but I don't know you all just yet :).