This kind of travelling allowed
MacEwan's Weigl lends a hand to needy children in Mexico
By Chris O'Leary, Freelance,
Edmonton Journal, January 20, 2011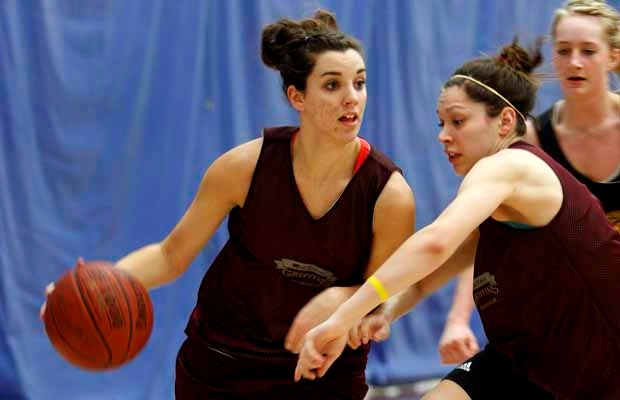 Grant MacEwan basketball player Laurissa Weigl, left, pounds the ball past Hilary Annich at pactice at Edmonton's MacEwan University (Photograph by: Brian Gavriloff)
Coaches at the college level, regardless of their sport, expect their straight-from-high-school rookies to throw them a curveball or two.
Inconsistent play, a lack of strength and struggles with a higher overall level of competition are all things that coaches have learned to anticipate.
Laurissa Weigl threw something in her coach's direction this season that isn't heard too often.
"Well, her father is a minister at a Baptist church in Stony Plain," the head coach of the MacEwan Griffins women's basketball team recalled. "They were going down to Mexico to run a basketball clinic for kids in an impoverished area of Mexico and they were taking down basketball supplies like balls and uniforms, things of that nature."
Weigl, a first-year guard with the Griffins, would need a week away from her team and from her first semester of studies. Rob Poole wasted no time in giving his approval for her trip.
"The family approached me at the beginning of the season and I said, 'Absolutely. That sounds like something that would definitely benefit her from a personal point of view and also for the kids in Mexico.'"
So at the end of October, Weigl, her father and about eight other people made the trip to Juarez through a group called Operation Amigo, which is run by Laurissa's great uncle. The group had built schools in Juarez in the past, with a gym in the high school. The people Laurissa met had an immediate impact on her.
"The kids there, they don't have very much at all. We took them balls and they joy on their faces, from a basketball ... it was amazing," she said.
"(Juarez is) really poverty stricken and as soon as we got to the compound we stayed there, so we were very safe. We didn't come across any violence or anything.
"People were so loving. As soon as we walked in ... these people were in a place that's so violent and you couldn't even tell. They were filled with so much love. They welcomed us with open arms."
A few days into the trip, Laurissa had no regrets about her decision to take time away from her team and studies.
"It was definitely worth it," she said, noting that she and her travel companions were in high demand the whole week.
"When we got there, we said we were going to run these basketball camps and there must have been a communication problem, because (the students) said, 'We want to play the Canadians.'
"Everyone wanted to play us. We had two games a day. Going (against) the girls' teachers, the boys' teachers, the high school boys and girls, even the parents wanted to play," she said.
Her emotions started to get the best of her when she recalled the children she met.
"They didn't care that we were from Canada and we couldn't speak Spanish. Little girls would run up to you, they were in Grade 1 and ... they tried so hard to speak to us.
"It wasn't just the girls, but everybody, they were trying actions, pointing, trying to get someone with a little bit of English to come help us out."
Poole wasn't surprised that his rookie was so affected by the trip.
"She's an extremely humble kid, very low key," he said of Laurissa. "I think it shows a tremendous amount of maturity on her part, to understand that this is something that's really important and can change the lives of children and I really support it.
"She's an excellent ambassador for basketball and for Edmonton and our institution in terms of giving back to our community and people in need."
---
Original article URL: http://www.edmontonjournal.com/This+kind+travelling+allowed/4137099/story.html